The restaurant at the end of the universe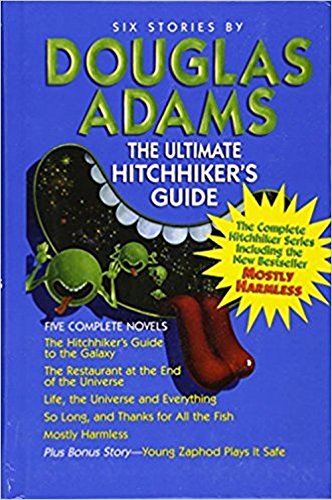 Seconds before the Earth is demolished for a galactic freeway, Arthur Dent is saved by Ford Prefect, a researcher for the revised Guide. Together they stick out their thumbs to the stars and begin a wild journey through time and space.The Restaurant at the End of the UniverseThe moment before annihilation at the hands of warmongers is a curious time to crave tea.
Kniha Stopárov sprievodca galaxiou: Kompletné vydanie kultovej päťdielnej trilógie:Dnes už vieme, že Stopárov sprievodca galaxiou je najvtipnejšia sci-fi séria na sveteToto vydanie obsahuje všetkých päť dielov a začína sa knihou Stopárov sprievodca galaxiou, v ktorej chvíľu pred zničením Zeme Arthura Denta zachráni jeho priateľ Ford Perfect a odvezie ho do hlbín vesmíru;V časti Reštaurácia na konci sveta sa obaja hrdinovia chtiac-nechtiac pustia do hľadania pána sveta;V diele Život, vesmír a...