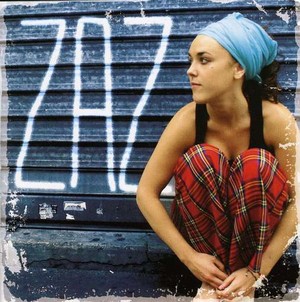 Tracklist: 1 Les Passants 2 Je Veux 3 Le Long De La Route 4 La Fee 5 Trop Sensible 6 Prends Garde A Ta Langue 7 Ni Oui Ni Non 8 Port Coton 9 J'Aime A Nouveau 10 Dans Ma Rue 11 Eblouie Par La Nuit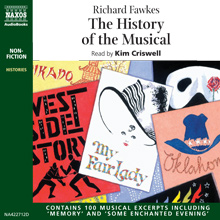 TOP cena! 9,00 EUR/227 Kč (11,00 EUR/277 Kč)A major production for Naxos AudioBooks and a unique Audiobook, this bold and entertaining undertaking traces the musical from its origins in classical music (Gay's The Beggar's Opera, Offenbach's operettas and Gilbert and Sullivan) through to its flowering in America; Showboat, Anything Goes, High Society, Guys and Dolls, Oklahoma, West Side Story, The Sound of Music, Oliver, Cabaret, A Little Night Music, The Rocky Horror Show, The Phantom of the Op...
ANTONÍN DVOŘÁK (1841–1904)TŘI NOVOŘECKÉ BÁSNĚ, OP. 50 (B. 84b, 1883)1 I. KOLJAS (PÍSEŇ KLEFTSKÁ) - 3:372 II. NEREIDY (BALADA) - 4:533 III. ŽALOZPĚV PARGY (PÍSEŇ HRDINNÁ) - 4:28CIGÁNSKÉ MELODIE, OP. 55 (B. 104, 1880)4 I. MÁ PÍSEŇ ZAS MI LÁSKOU ZNÍ - 2:445 II. AJ! KTERAK TROJHRANEC MŮJ PŘEROZKOŠNĚ ZVONÍ - 1:166 III. A LES JE TICHÝ KOLEM KOL - 3:037 IV. KDYŽ MNE STARÁ MATKA - 2:178 V. STRUNA NALADĚNA, HOCHU, TOČ SE V KOLE - 1:129 VI. ŠIROKÉ RUKÁVY - 1:2110 VII. DEJTE KLEC JESTŘÁBU - 1:55BIBLICKÉ P...
Jabra talk 35 Extreme Bluetooth umožňují volání s funkcí HD Voice, 2mikrofonní technologii a výkonné potlačení šumu. Funkce HD umožňuje širokopásmové připojení hovorů, díky čemuž přináší bohatší zvukový zážitek. Vyberte si svůj oblíbený styl nošení s nástavci Ultimate Comfort EarGels™, které se dodávají v mnoha velikostech a tvarech. Sluchátka bude moct pohodlně nosit po celý den. Díky výdrži baterie až 6 hodin pro volání a až 9 dní v pohotovostním režimu model Talk 35 přináší spolehlivá bezdrá...