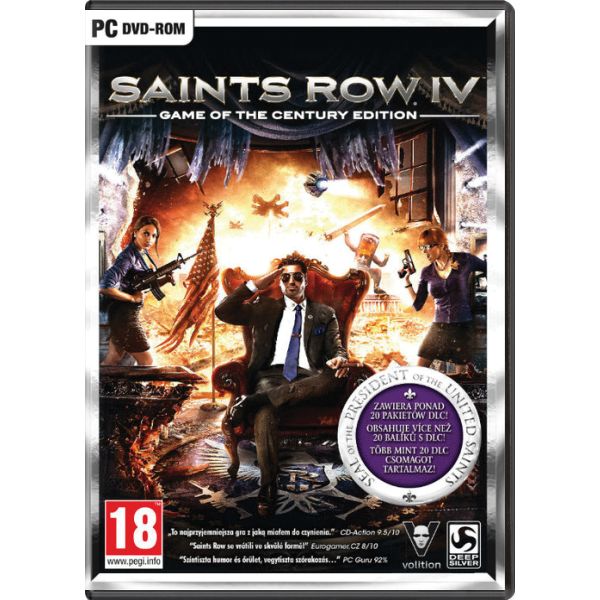 V hre Saints Row 4 bola hlava gangu Svätcov zvolená za prezidenta Spojených štátov amerických. To je ale iba začiatok. Šialenstvo série Saints Row dostáva teraz nový smer s katastrofálnou mimozemskou inváziou, pričom mimozemšťania transportovali Svätcov do bizarnej simulácie Steelportu. Vládnite mocnými superschopnosťami a bojujte za oslobodenie ľudstva spod mentálneho... .
Milovaná a kritikmi uznávaná hra Ghostbusters je späť a prerobená na moderné konzoly a PC! Natiahnite na seba protónový oblek a znova sa pripojte ku krotiteľom duchov na dobrodružstve s hlasmi a podobou originálnej posádky počas vášho boja o záchranu New Yorku! Hra sa odohráva dva roky po filme Ghostbusters 2,... .
GOTY (Game of the Year) edícia obsahuje ako základnú hru The Elder Scrolls 4: Oblivion tak obe rozšírenia - Knights of the Nine a Shivering Isles. The Elder Scrolls 4: Oblivion Štvrté pokračovanie najúspešnejšej RPG série v histórii PC Elder Scrolls: Oblivion už klope na dvere, a neplánuje nič iné ako stať... .
LOGITECH G923 TRUEFORCE SIM RACING WHEEL FOR XBOX ONE & PCMeet the next generation of racing wheels. The award-winning Logitech G design je reengineered do diaľky do vášho game physics, delivering unprecedented realizmu. Feel pistons pumping, gravel crunching, and every shift, drift, and hairpin turn ako never before. Trueforce - Next-gen force feedbackPremium build - Alulminium, steel, leatherDual clutch - Launch assist controlTECHNICAL SPECIFICATIONS Requirements(Xbox Series X|S a Xbox On...
Pohodlný gamepad na hranie hier. Výrobok podporuje bluetooth 4.0. V zariadeniach s operačným systémom iOS/Android podporuje priame pripojenie a hranie. Bluetooth pripojenie nepotrebuje nadbytočnú hernú platformu, komplikované nastavenie a aktivačné operácie! - Podpora hry Battleground PUBG (podpora Android 6.0 alebo vyššie, iOS11.0 alebo vyššie) - Produkt je dodávaný s bezdrôtovým prijímačom 2,4G. - Výrobok je vhodný na mobilné telefóny, tablety a smart zariadenia so systémom Android/iOS, počí...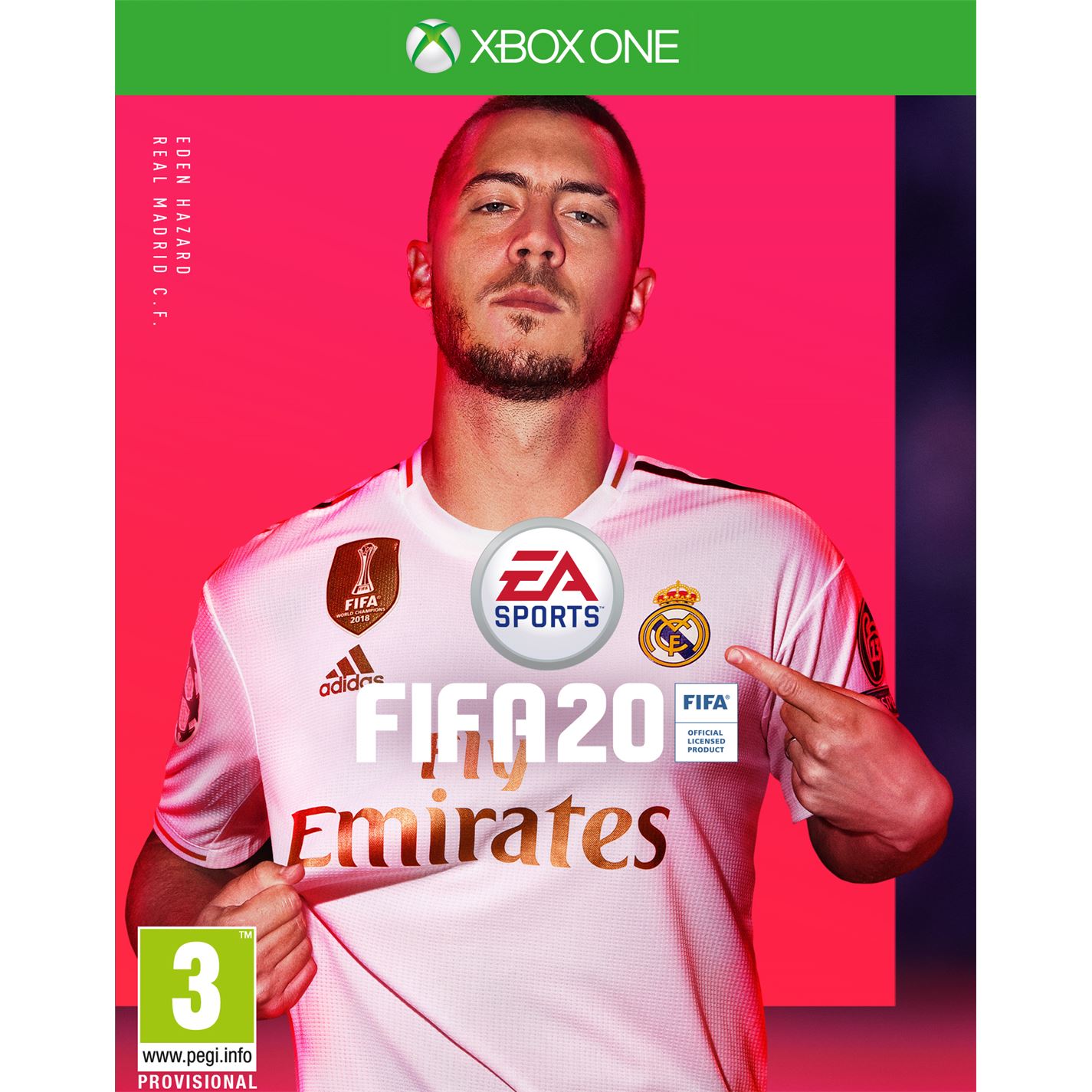 EA SPORTS FIFA 20 Powered by Frostbite™*, EA SPORTS™ FIFA 20 for the PlayStation 4, Xbox One, and PC brings two sides of The World's Game to life - the prestige of the professional stage and an all-new authentic street football experience in EA SPORTS VOLTA. FIFA 20 innovates across the game, FOOTBALL INTELLIGENCE unlocks an unprecedented platform for gameplay realism, FIFA Ultimate Team™ offers more ways to build your dream squad, and EA SPORTS VOLTA returns the game to the street, with an aut...
ROG STRIX GO USB-CROG Strix Go USB-C gaming headset s AI noise-canceling mikrofón delivers immersive gaming audio and incredible comfort, s podporou pre PC, Mac, Nintendo Switch, smart devices and PS5 Exclusive airtight chambers and 40 mm ASUS Essence drivers deliver inredibly rich, pure sound with optimized deep bass for an immersive audio experienceLightweight, at only 262 g, a foldable dizajn pre unbeatable komfort, pre long gaming sessions a on-the-go enjoymentIndustry-leading AI noise-canc...
Audiokniha MP3 Planes of Existence:The fifth step into the Darkness is called Planes of ExistenceThe fifth step into the Darkness is called Planes of Existence, and it is a solo ride by the feature author of the whole series in three parts. In them, Howard Phillips Lovecraft, practically unread and unknown during his life, but a source of inspiration after his death thanks to friends and devoted fans, deals with the clash of two worlds – the reality and "beyond". Beyond the Wall of Sleep is ...
GXT 863 Mazz Mechanical KeyboardMechanical gaming keyboard with long lasting, quick responding switches and rainbow wave illumination mechanické červené spínače s lineárnym feel a fast response time; ideal for gamingThe switches will last up to 50 miliónov keystrokesAnti-ghosting N-key rollover prevents keystrokes from not being registeredGame Mode disable the Windows key to keep you in the gameYour keyboard, your identity; 14 colour modes with adjustable brightnessTECHNICAL SPECIFICATIONS Key ...
GXT 4371 Ward Multiplatform Gaming Headset Multiplatform over-ear gaming headset with powerful sound and fold-away microphone Multiplatform gaming headset suitable for PC, laptop, mobile and all consolesDeep and rich sound from the powerful 50mm reproduktory unitsComfortable to wear during long gaming sessions thanks to breathing fabric earpadsIn-line remote with volume control and microphone mute switchFold-away microphone with adjustable flexible mic boomBraided cable (1m) plugs directly into...
GXT 430 Ironn Gaming Headset Comfortable over-ear gaming headset s 50mm reproduktormi units Powerful 50mm speaker unitsSoft and comfortable over-ear padsFlexible microphone and self-adjustable headbandOn-ear cup volume control and microphone mute switch2m flexible rubber cable; (1m for console usage + 1m extension for PC)Pre použitie s konzolami, simply plug into the game controller TECHNICAL SPECIFICATIONS GENERALPN23209EAN8713439232097ColorBlackTotal size230 x 210 x 105Total weight375 gPacka...
ROG Strix Go 2.4USB-C 2.4 GHz bezdrôtový hrací headset s AI noise-cancelling mikrofónom a nízkym výkonom pre kompatibilitu s PC, Mac, Nintendo Switch, smart devices and PS4 Low-latency 2.4 GHz bezdrôtové pripojenie via a USB-C adaptér, ktorý je compatible s Nintendo Switch v handheld mode, smart zariadenia, PC, Mac a PS4, plus a 3.5 mm konektor pre Xbox One a iné 3.5 mm devicesExtremely lightweight design, with included carry bag pre on-the-go use and protectionIndustry-leading AI noise-cancell...